We made this fantastic "not-your-average-tomato salad" by the world-famous chef Ottolenghi and topped it with our Baby Burrata- it's delish!
These sweet & tart, juicy heirloom tomatoes topped with crispy, fried, aromatic julienned ginger & garlic is a perfect marriage with our creamy, lush Baby Burrata Cheese.
Garnish with your favourite herbs & top with some lemon zest to enjoy this perfect Summer Salad!
Serves: 1-2 People
Prep Time: 7-10 Mins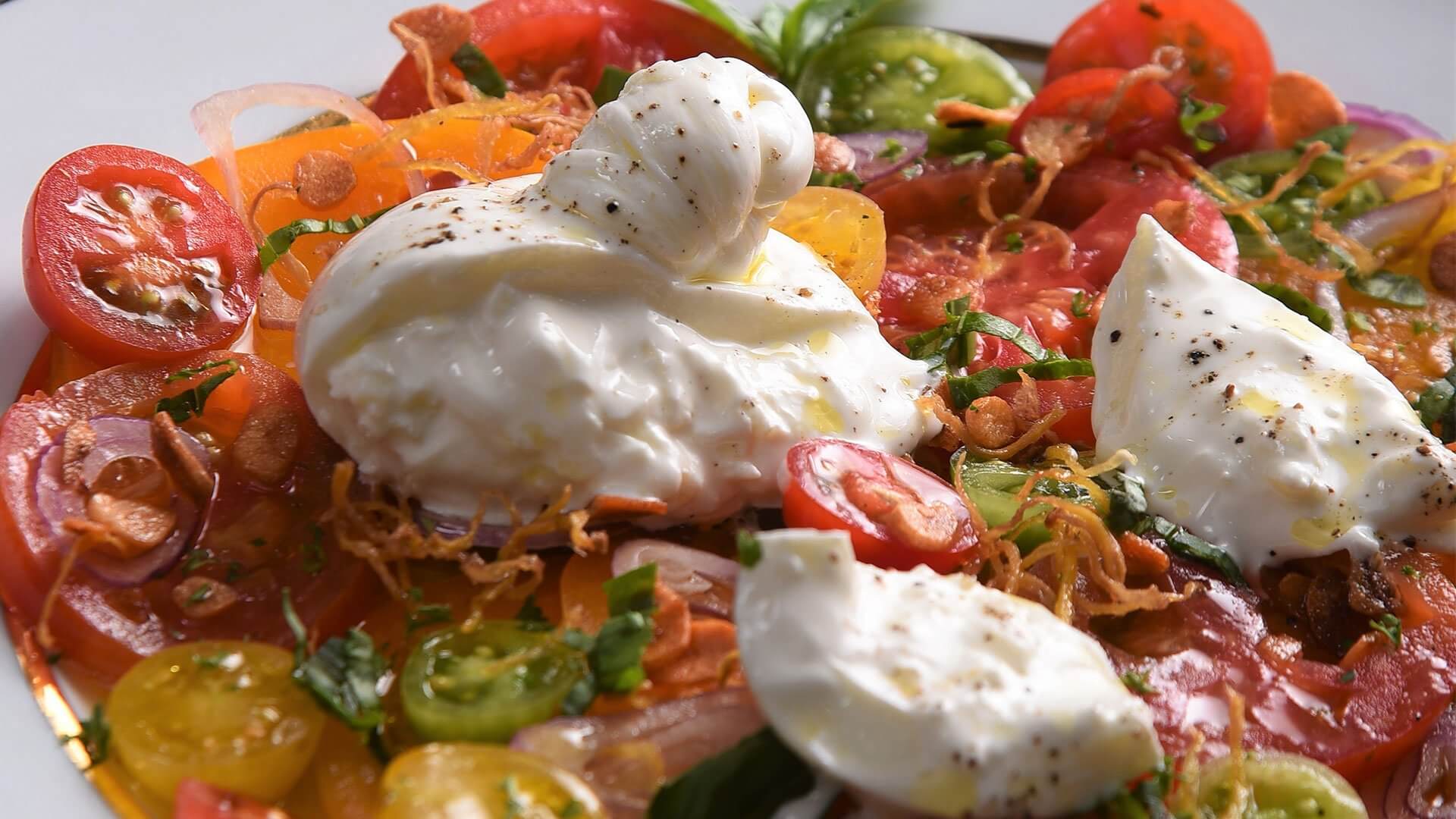 2 Heirloom Tomatoes
100g Mixed Cherry Tomatoes
5g Garlic
5g Ginger
2tbsp Extra Virgin Olive Oil
1tsp Lime juice
Lemon zest
1 small red onion
Basil
Himalayan Pink salt
Black Pepper
Thinly slice garlic cloves.
Peel & thinly slice ginger.
Place a pan on medium-low heat, add some Extra virgin olive oil.
Add the julienned ginger & garlic to the frying pan & cook gently for 5-10 minutes until lightly golden.
Strain the ginger and garlic through a sieve and transfer to a plate with paper towels.
For the dressing, take some Extra Virgin Olive Oil, add lemon zest, lime juice, Himalayan Pink salt, black pepper and whisk everything together.
Now start slicing tomatoes of all colors & varieties & layer them beautifully on your salad plate.
Thinly slice the red onions into rounds.
Pour the dressing on the tomatoes followed by the crispy ginger & garlic on top.
Carefully place the ELEF Baby Burrata on top of the salad & cut it open with a serrated knife. Lightly drizzle some extra virgin olive oil, sprinkle salt & pepper on the cheese.
Garnish with fresh basil & serve right away!