Make this traditional Italian antipasto with our creamiest, piquant Chèvre (Goat Cheese) topped with roasted seasonal cherry tomatoes & fresh basil.
This makes for a refreshing appetizer at your summer brunch parties & pairs beautifully with a glass of Bubbly!
Serves 3-4 People
Prep Time – 10-15 Mins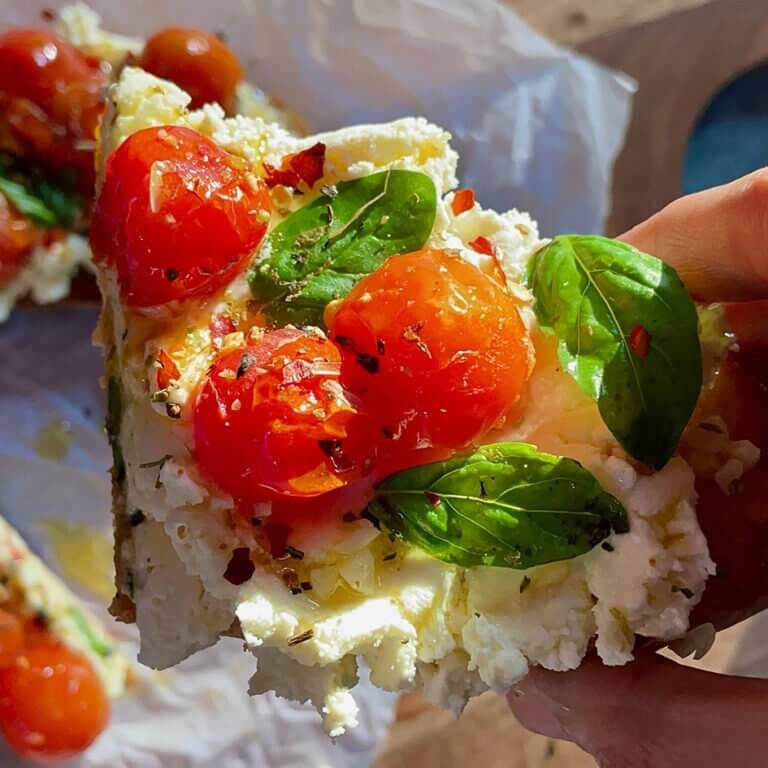 1 loaf of Baguette (or crusty rustic bread of your choice)
200g Cherry Tomatoes
10g Chopped garlic
1 sprig Rosemary
15-20g Basil leaves
Dried Italian herbs
Chilli flakes
Salt
To a baking dish, add cherry tomatoes, chopped garlic, Himalayan pink salt, extra virgin olive oil & rosemary. Stir well.
Now, bake this in the oven for 15 minutes at 200°C.
Cut the baguette into half & toast it lightly with some extra virgin olive oil.
Now smear some soft, creamy ELEF Chèvre on each slice of the toasted baguette.
Add spoonfulls of the delicious and aromatic roasted cherry tomatoes on top of the Chèvre.
Generously drizzle the leftover extra virgin olive oil from the cherry tomato baking dish on top of the bread.
Garnish with some torn apart fresh basil leaves.
Finally, sprinkle some dried Italian herbs & chilli flakes.
Cut the baguette into bite sized portions & enjoy this delicious appetizer!