We have made this Eggplant Parmigiana inspired sandwich even better by adding our lush, oozy Burrata.
Crusty Italian style Ciabatta bread smeared with fresh Basil Arugula Pesto & layered with crumb fried eggplant, roasted peppers, arugula & topped with our decadent, handcrafted Burrata, is the best sandwich you'll ever eat.
Serves: 1 Person
Prep Time: 40 Mins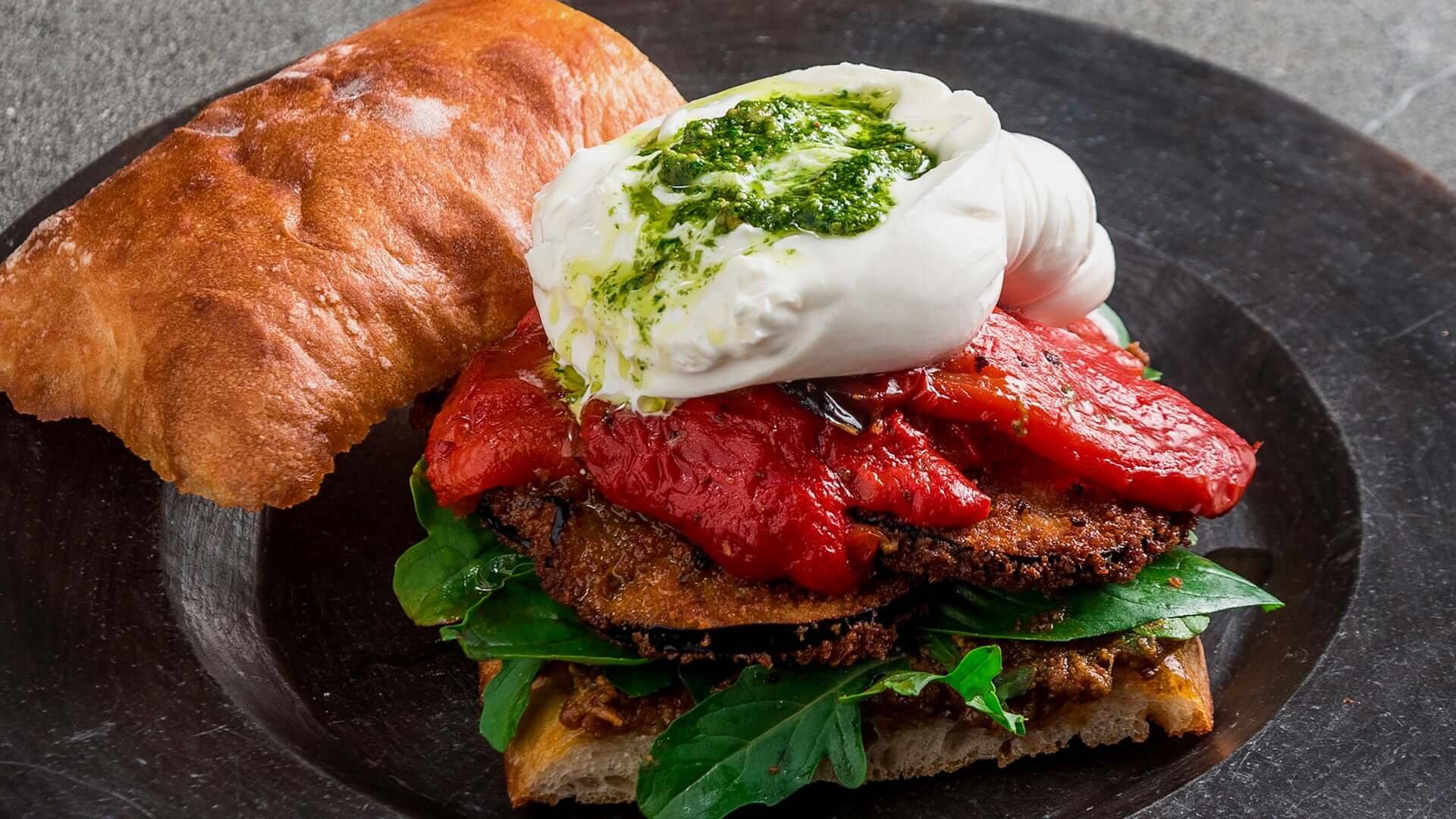 200g ELEF Burrata/ Truffle Burrata
1 Ciabatta
Handful of Arugula/ Roquette leaves
1 large Red Bell Peppers
1 large Eggplant
300g Bread crumbs
100g All-purpose flour
Salt
Pepper
Preheat the oven to 190°C.
Clean and peel your eggplant. Then, slice the eggplant into rounds.
Set the eggplant slices on the wire rack.
Sprinkle salt on each side of the eggplant and let the salt do the work for 15 to 30 minutes.
Once the salt has released moisture from the eggplant, pat the slices dry with paper towels.
Prepare your flour batter (all-purpose flour + water + salt + pepper) & breadcrumbs for coating the eggplant.
Coat the eggplants in the flour batter.
Next, dip into breadcrumbs, shaking off the excess.
Place the coated slices onto a sheet pan while you are finishing them all.
Heat some extra virgin olive oil in a non-stick frying pan and fry the eggplant.
Turn the eggplant rounds to fry on the other side. Remove once done and continue with your batches (replacing the oil, as necessary).
Deseed the bell peppers into half. Drizzle some EVOO & broil in a preheated oven until the skin is wrinkly and the bell peppers are softened. Remove the skin & cut the bell peppers into half.
Lightly toast your ciabatta bread & smear some ELEF Sundried Tomato Pesto on it. 
Start layering by creating a bed of fresh Arugula leaves. 
Place your crumb fried Eggplant slices on top & add sliced roasted bell peppers as well. 
Cut open your ELEF Burrata or Truffle Burrata and place it as the top most layer. 
Smear some ELEF Basil Arugula Pesto on the other toasted Ciabatta slice.
Here you go – Burrata Eggplant Parmigiana sandwich of your dreams.